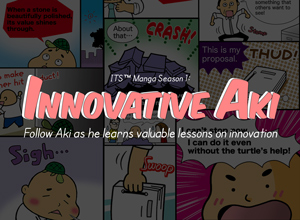 This is a four-part manga series called "Innovative Aki". Learn the basic techniques of innovation in this series as we depict Aki's growth through his work.
Innovative Aki Table of Contents:
Episode1: New Perspectives = New Ideas
Episode 2: Screening Your Ideas!
Episode 3: Getting Others to Read Your Proposal!
Episode 4: Move Forward with a Detailed Proposal Implementation Plan!
Now you can download all the episodes of "Innovative Aki" for free by filling out the form on the right.