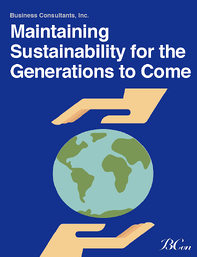 Even though sustainability is not a new idea, having been introduced in 1987, it is important to understand its principals and proper implementations. Through the introduction of products and services geared toward sustainability, readers can learn exactly how to establish a level of maintenance from generation to generation that is not only healthy but also successful.
Benefits of this material:
Learn the importance of sustainability
Understand the social issues associated with sustainability
Know the climate issues associated with sustainability
Determine how food distribution must change in order to accommodate population growth
Read research and other statistical information surrounding sustainability
Learn how to realistically achieve sustainability
Even though we have learned how to eradicate disease and increase our life expectancy, we have not solved the problem of bettering our environment in order to sustain it. By downloading the material found here, you are not only able to receive this necessary information; you are able to apply it in a proactive manner. Learn how to take the steps necessary to live a life that is healthy not only for your generation, but for many generations to come.